The Best Project Management Tools to Boost Employee Performance
|
These tools play a key role in improving your business process by constantly evaluated and enhancing the delivery processes in terms of efficiency, effectiveness and flexibility. It gives you a complete overview of what's happening throughout a project's lifecycle, including who is doing what and how efficiently it is being done. In the process, it also helps you track the performance of each employee and improve their productivity.
Here are the best project management tools to help you boost your employees' performance.
1. JIRA
Image via JIRA
JIRA is one of the best project management tools for any software team. It makes planning and tracking the progress of the project seamless so that you can effortlessly move towards the next release. It is largely popular for its issue- and bug-tracking features.
Other functionalities include:
Advanced reporting
Project organizing
Workflow mapping features
The Release Hub of JIRA provides updated information to mitigate launch risks. You can integrate several plug-ins with this project management tool as well to extend its functionality, the like of which include Bamboo integration, time tracking, charting, real-time collaboration, a calendar and more. In fact, there are more than 800 add-ons to choose from.
Your employees can therefore upgrade the workflow with a range of tools such as Confluence to create product requirements and turn them into tasks with one click; update issues automatically with Stash or Bitbucket, keep others in the team (as well as your client) in the know using the HipChat room, and so on.
From 10 users to 2000 users, JIRA offers suitable packages for businesses of any size and shape.
2. Nutcache
Image via Nutcache
This is one of the finest collaborative project management tools you will find in the market these days. Nutcache is business oriented and flexible beyond your imagination. In fact, you can manage projects by location, project phase, resources or by team member as well as follow your preferred methodology being agile, scrum, kanban or any other. Nutcache makes it easy to manage your backlog and activities.
Nutcache is designed for businesses of all sizes and can meet any project management requirement level. Its seamless collaboration is your secret tool to enhance your teams' performance. The web-based collaborative boards of Nutcache allow you to invite your colleagues and other collaborators to communicate and work together effortlessly. You can discuss and share ideas, comments, feedback and documents through the collaborative boards.
In fact, you can create several collaborative boards for a specific project and organize them using lists and cards, reflecting your workflow. Add important information on the cards including your checklists, expenses, worked hours and attached documents. The boards have everything you need for fast collaboration and document management.
Other functionalities allow you to:
Assign tasks with a deadline
Attach files to a specific project
View project status and progress through graphic indicators
Generate reports, invoices and tax summaries
Nutcache is also integrated with various payment gateways to streamline your payment process.
Apart from its basic free version, this project management tool offers a PRO version, ideal for small businesses and teams and an enterprise-level package, geared towards larger organizations.
3. Goplan
Image via Goplan
The intuitive user interface of Goplan makes it a great platform for tracking projects in a secure, collaborative environment. It lets businesses better manage their projects, organize the workflow and communicate with clients effortlessly. The dashboard of Goplan provides a clear overview of what's happening with your projects. You can also add tasks and milestones for each employee and add numerous sub-tasks under each task.
Just like JIRA, Goplan also allows tickets and issue tracking, making it a good choice for software development firms. You can capture project defects as well as prioritize and filter using the tickets. Finally, this project management tool has file management features, allowing you to upload documents and files to Goplan platform so that you can store all your project assets in a single, secure place.
While the startup package is limited to 10 users, the paid versions (i.e. Professional and Unlimited packages) have no such limit and all packages available for 30-day free trial.
4. Active Collab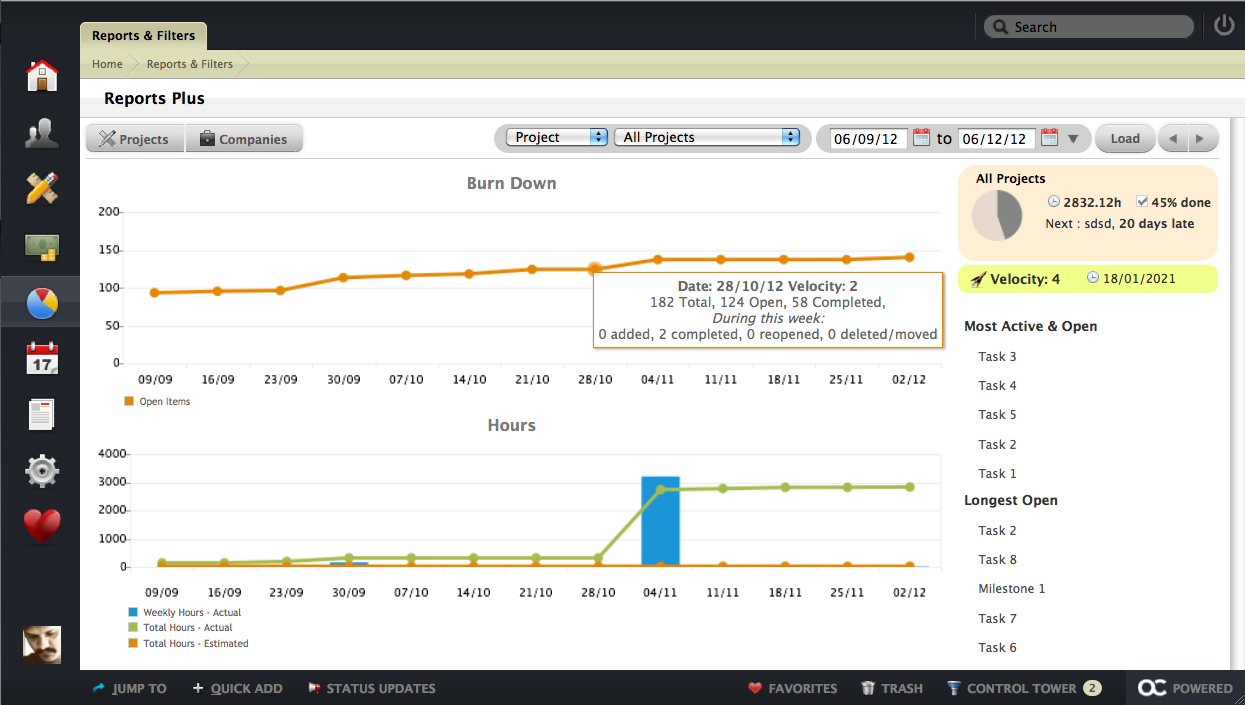 Image via Active Collab
Active Collab lets businesses create a collaboration area right on their website. This simple, powerful collaborative project management tool allows you to manage unlimited projects and organize them into groups to facilitate easy management.
Using this platform you can share files, set up an online forum for seamless discussion, create and share collaborative writing, send reminders and assignments within the group. When it comes to project management, Goplan offers a host of features including time tracking, printing and exporting, calendar and scheduling, assigning milestones and ticket management. There are plug-ins as well to extend the functionalities of Active Collab to meet your particular needs.
Both onsite deployment and cloud-based services are available with Goplan.
Conclusion
It is not just through tracking that project management tools help you boost your employees' performance, they also allow you to eliminate inefficiency by streamlining your daily operations. Instead of wasting time and money on meetings and business travels, businesses can now allow their employees and clients to communicate and discuss ideas and feedback as well as share documents right from the comfort of their respective offices by using collaborative project management tools.
This, in turn, helps employees to better focus on core tasks to improve the ROI of their organizations.

Resources: business.co